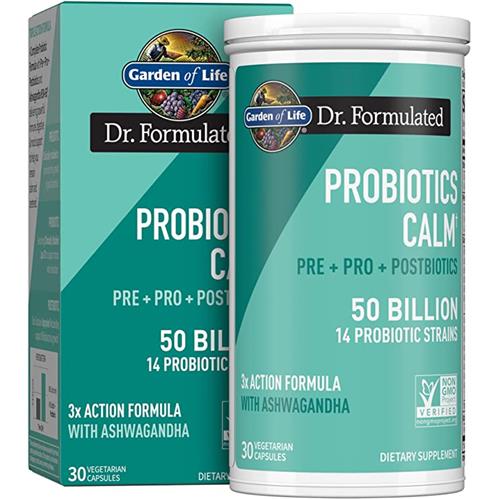 Meet the next generation of probiotics: innovative Clinically Proven prebiotics, live probiotic cultures and upcycled postbiotics—plus a stress support blend†—all in one veggie capsule a day

We've taken these "Wholebiotics" (as we like to call them) to the next level by designing complete, triple action formulas. How? Prebiotics bring probiotics to life, probiotics are beneficial living bacteria, and postbiotics make probiotics more powerful

The end result is targeted formulas which provide digestive and immune support to meet your specific needs.

Our shelf stable complete Probiotic provides 50 Billion CFU from 14 Probiotic Strains, including Clinically Studied Lpc-37, shown to support mood and relaxation.† We've also added a whole food stress support blend made with Organic Blueberry and Ashwagandha. Our doctor formulated probiotic is also Third-Party Certified Non-GMO Project Verified, NSF Gluten Free and Carbonfree®

The brain behind our Dr. Formulated line is David Perlmutter, M.D., F.A.C.N. He is a leading expert on the human microbiome, America's brain-health expert, six-time New York Times best-selling author, Board-Certified Neurologist and Fellow of the American College of Nutrition. †These statements have not been evaluated by the Food and Drug Administration.

This product is not intended to diagnose, treat, cure or prevent any disease.